Monthly recurring revenue, often abbreviated as MRR, is a form of subscription income.
I believe it's the holy grail of online income for two main reasons.
Recurring revenue gives your business predictability. With predictability you can hire employees, order supplies, and forecast allocating resources toward your business.
Recurring revenue gives your business (and life) consistency. Consistent revenue removes the volatility that some businesses face. It eliminates stress associated with one time sales or having to repeat launches for income.
So you're probably wondering how I created $1030 in MRR in 4 days, and why I decided to run this micro-continuity test.
Simple.
A few months ago I saw this site. For $5 per month, customers receive a meal plan for every day of the week.

The meal plan is presented in a nice format with all the ingredients one needs to go to the grocery store, purchase the ingredients, come home and make a delicious meal for their family.
Well they have over 12,000 members on their fan page with a lot of engagement. So my assumption is they have at least 3500+ members paying $5 per month. That's $17,500 per month for a micro-continuity product.
At the time I didn't think anything of it other than it being a good way for the owner's of the program leverage and moentize their following.
I had no desire to create a similarly priced program at that time.
What was interesting to me is that the whole program was built on the backbone of a Facebook private group. It got my wheels turning.
They didn't have to fumble around with deciding on a membership platform or login credentials.
They brought the membership to where most people spend a lot of time on each day – Facebook.
Then a month later I stumbled upon this site.

For $10 per month, customers get to discuss and share resources related to self improvement and "becoming superhuman".
I was familiar with the creator Joshua Pellicer who I had studied previously when a book he wrote was a top seller on Clickbank for over a year.
For those who don't know Clickbank, it's a marketplace where you can list your digital ebook or course and affiliates can promote it.
Clickbank is very competitive and difficult to move your way to the top so there was something about Joshua's approach that intrigued me.
His VSL (video sales letter) was also gaining viral traction. In order to write a great VSL, you have to be a student of marketing.
And since Joshua had a viral and high converting VSL I thought surely he knows marketing and I began studying his work.
He took his book called "Tao of Badass" and got it to the top of Clickbank for over a year.
And then he proceeded to do generate $11 million in sales that year plus grow a large team and create a company around his product.
Shortly after I went to this conference and randomly met a couple of interesting guys who turned out worked for Joshua's company.
It seemed like I couldn't go anywhere without seeing some form of Joshua Pellicer's work.
So I joined his group of 159 members to get further inside his mind and see how he runs things.
The "Becoming Superhuman" group was only open for a month and had a MRR of about $1500.
And Joshua wasn't very active in the group. I'm guessing he spent 20 minutes per day reading, posting and making an occasional impromptu video filmed on his iphone.
I know Joshua wasn't doing it for the money but it was still interesting to me that a guy who recently did $11 million in revenue created a group like this.
Around the same time I started thinking about how I can monetize a site I own that was getting about 3000 unique visitors per month.
What Came Of All This?
I decided to run a little test to see how many paying members I can get in a few days into a Facebook group.
I ran the test for four days and it now has a steady income stream of $1030 MRR through a micro continuity program hosted on a private Facebook group.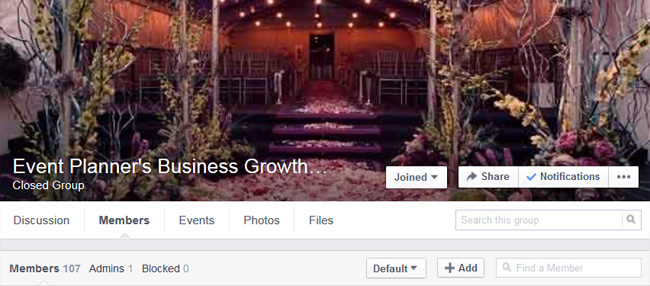 How Did I Do This?
The cliff notes version is this:
Step 1: I ran Facebook ads to get "likes" to a general Event Planning fan page (I spent about $700 and 7,178 fans liked my page).
Step 2: I created a promoted post visible only to fans of my fan page to join the paid private group (I spent $26 and got 103 paying members).
Step 3: During the 3 days I was running ads, I was constantly adding value and engaging the private Facebook group. I wanted members to see engagement and get value immediately after signing up to pay the $10 per month so they don't unsubscribe. I'll write a post later about how to give major value and get engagement on Facebook groups. There are a lot of great tips.
Step 4: The end. Now I have $1030 in MRR to do whatever I'd like with.
Longer version:
I ran Facebook ads to a fan page. These fans were acquired for about .10 each and was up to 7178 fans who "liked" event planning.
So I created a post on the fan page to a landing page that made a simple offer to the visitors.
The offer was to join a private "Event Planning Business Growth Group" to discuss ways to grow their business, get new clients, ask questions and share photos of their events.
The cost was $10 per month.
Since I hadn't engaged the fans on the general Event Planning page for several years and I know Facebook has continually decreased the organic reach of fan page posts since I first grew the page, I knew I had to I immediately boosted the post.
So I boosted it for $16.
Then I added $4 to that boost about 8 hours later.
And after 48 hours when the initial boost ended, I added another $6 to the boost to get me over the 100 paying member mark.
So there you have it – 4 days of work (1 day setting up the page and 3 days boosting) and $26 dollars spent to create a recurring income stream of $1030 every month (unless members cancel).
Of course you have to add in the cost of acquiring the initial 7175 fans which on average cost me .10 so thats another $717 I had spent bringing my total spend to about $743.
If you have never promoted a boosted post on Facebook it is one of the easiest things you can do and I highly recommend testing it.
Every time you make a post on Facebook in the bottom right corner a "boost" button appears.
It's so easy I made a 4 step diagram to show how to do it.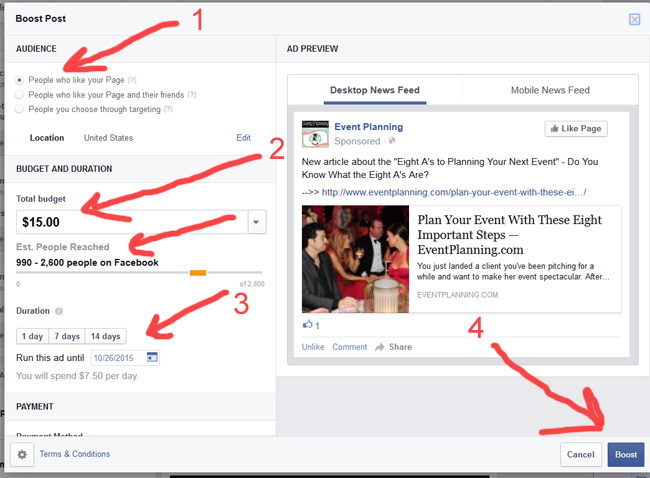 I rarely say something online is easy but I'm convinced this method above can be replicated over and over in many different niches.
The key to this type of micro continuity is finding targeted niches that people are passionate about.
So go out and brainstorm possible niches and see if you can do the same!